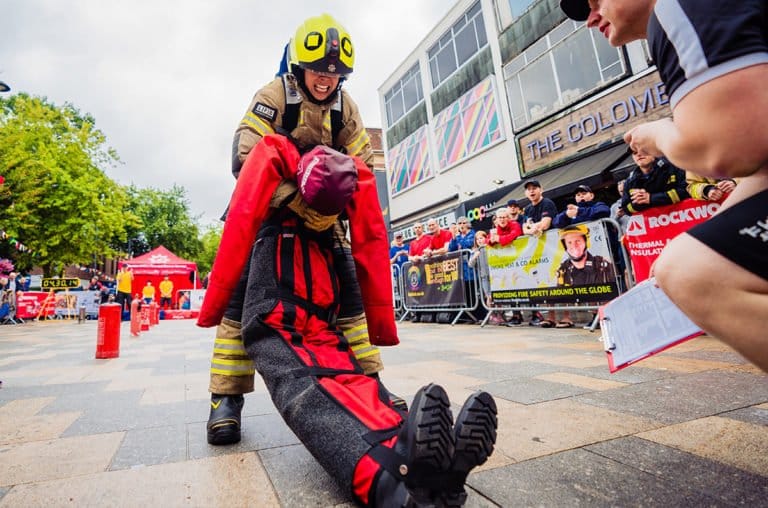 Casualty Evacuation Manikin
The Casualty Evacuation Manikin has been designed specifically for the UK Fire Fighter Recruitment Test and the CFOA FireFit Role Based Fitness Test. A second weight has recently been added as requested by the British Armed Forces.
The casualty evacuation training manikin was specifically designed for the Fire Fighter recruitment and annual fitness test as specified by the Chief Fire Officers Association. Whilst 55kgs is the specified weight for UK FRS, this product could be made to your own requirements.
Now constructed in the same flame retardant Polyester used in Police ballistic/stab vests, which typically has 4 times the strength and abrasion resistance of 16oz canvas or P.V.C (the materials previously used) – making the manikins even stronger than before.
Features & Benefits
Anatomically correct weight distribution gives the 'feel' of an unconscious casualty.
Strong webbing loop allows easy handling, hauling aloft, storage and suspension for drying.
Supplied complete with leg protectors making it perfect for drag tests. Replacement plastic strips for the leg protectors and additional leg protectors can be purchased separately.
Water repellent material, making it suitable for wet or foul conditions.
Soft body joints eliminate the risk of pinch welts and bruising; common injuries when using plastic bodied manikins.
Also comes complete with boots, which are easily replaced if damaged.
Product Details
(55Kg is the weight specified for UK FRS)
Supplied complete with manikin leg protectors and overall.
Available Sizes
| Name | Code | Height (m) | Weight (kg) | NATO Stock No |
| --- | --- | --- | --- | --- |
| Adult | RLNCE | 1.8 | 55 | |
Key Medical Paramaters
Who Uses Them?
Used by Fire Services across the UK
Need help deciding which manikin is right for you?
We're here to help
Get a quote for this manikin or any other in this range