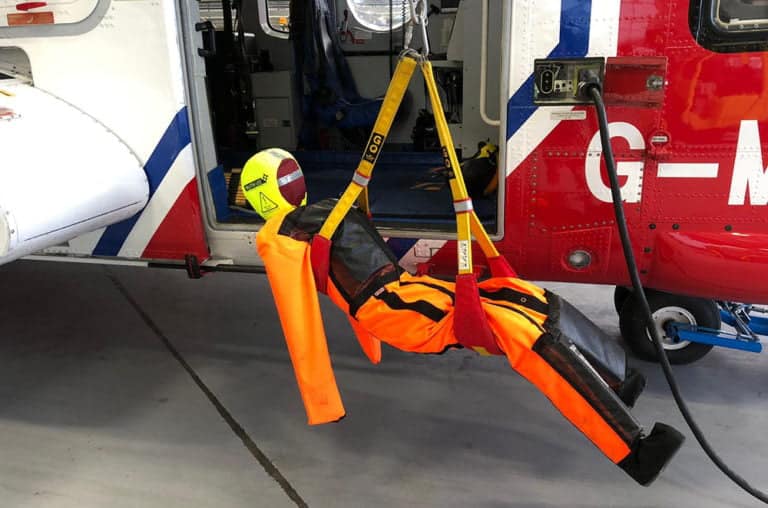 A variant model of our popular Man Overboard manikin, the Helicopter Winch Manikin was designed in consultation with the experts at Bristow Helicopters UK to provide a solution for training horizontal lifts from the water.
When using a helicopter to rescue someone who has been in the water for some time, it is vital that they are winched in the correct way to prevent cardiac problems associated with a sudden release of hydrostatic squeeze.
It is preferable to raise the casualty horizontally, so as to minimise the effect of water pressure and therefore we were pleased to work with the rescue experts at Bristow Helicopters (UK), to make changes to our popular Man Overboard model which would allow it to perform more accurately in a helicopter winch scenario.
Features & Benefits
Has lighter legs than the standard Man Overboard model, meaning that the legs float more readily when fitting the harness/strops in water.
The manikin will sit in a stable "W" position whilst winched to the helicopter.
Compatible with standard and Hypothermic Lifting straps.
Buckle clips on the inside knees and ankles allows for the option of keeping legs together.
The tough nylon mesh carcass allows the water to penetrate quickly, allowing the legs to drop beneath the surface, leaving only the head and shoulders visible, if desired.
Dry weight 40Kg (Adult) increases to approximately 65Kg retrieval weight from water.
Floats horizontally, vertically or at 45 degrees, to simulate a live person or dead body – achieved by redistributing foam pieces within the overalls in a matter of seconds.
Bright orange overalls and SOLAS reflective tape on the head make the manikin highly visible in open water.
Strong webbing loop at the back allows easy handling, storage and suspension for drying.
The soft feet are designed to allow rapid drainage to prevent too much water in the helicopter.
Comes complete with overalls and soft feet, which are easily replaced if damaged.
Product Details
Nylon mesh – conforms to BS3408/20
Reinforced P.V.C  – conforms to BS3408/20 and ISO 7854 1984
High density polypropylene webbing (25mm rated to 207Kg, 50mm rated to 440Kg)
SOLUS reflective tape – compliant with US Department of Transportation specification USCG 46 CFR, section 164.018 and International Maritime Organisation (IMO) resolution A.658(16).
Polypropylene plastic (conforms to DIN EN ISO 1873, Teil 1)
Non-absorbent closed cell foam – water absorption : 1 Day  < 0.1 (DIN 53428 1986) 28 Days  < 0.5% VOL
Made in the UK – all manikins conform strictly to our ISO9001:2015 standards.
Available Sizes
| Name | Code | Height (m) | Weight (kg) | NATO Stock No |
| --- | --- | --- | --- | --- |
| Adult | RLNWHW | 1.8 | 40 | NSN 6910-99-753-0317 |
Key Medical Paramaters
Who Uses Them?
This manikin was designed in consultation with Bristow Helicopters (UK) and we expect it to be the preferred manikin for anyone carrying out winch rescue training by helicopter
Coastguards
The Armed Forces
Offshore operators
Shipping
Offshore Firefighters
Need help deciding which manikin is right for you?
We're here to help
Get a quote for this manikin or any other in this range