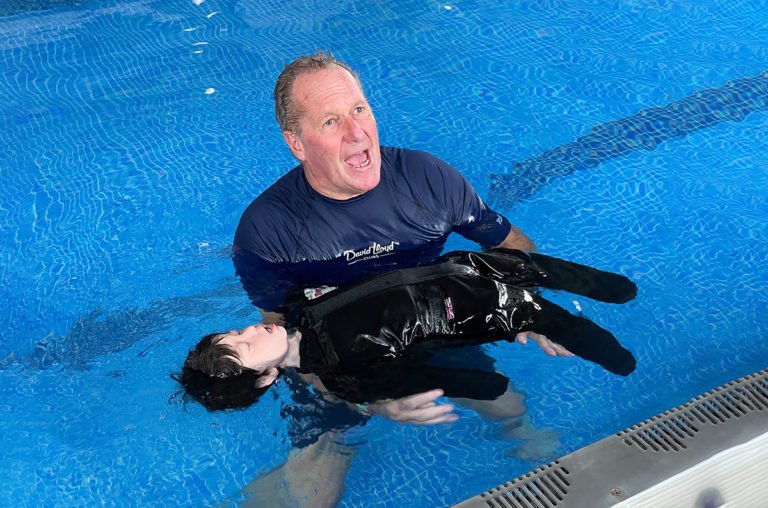 Advanced Water Rescue Toddler
Age is one of the significant risk factors for drowning. Globally, the highest drowning rates are among children 1–4 years. It is a highly emotive issue that paramedics and other rescuers can now train for, with the first drowning simulation toddler.
Children under the age of 4 are statistically at the highest risk of drowning. We believe one death is too many.
Allowing rescue professionals to train in the most realistic way possible is key to reducing the number of drowning deaths. Like its adult counterpart, the Advanced Water Rescue Toddler replicates hydrostatic squeeze, which means water will not enter the lung system, but you can choose to add water allowing for both submerged or immersed drowning scenarios to be simulated and emergencies such as pulmonary oedema taught.
It is vital for clinical care training to take place in an environment where it will take place for real. Unlike anything else available to rescue teams, this toddler manikin will allow you to simulate difficult rescue scenarios of a drowned toddler. Once out of the water, continue with essential medical care, letting rescuers and medical trainees learn how to manage this situation in a more realistic way.
The Toddler's rugged Ruth Lee outer body aids buoyancy in all waters, and it will float in a drowned position for ultra-realistic rescues. Foam pads also let you adjust the buoyancy for submerged rescues (though we advise that you use the tether point in open water to ensure you don't lose it!).
The torso of the manikin is an ultra-realistic male form, with all the anatomical features you'd expect from a toddler medical simulation manikin for airway management skills.
Just like the Adult Advanced Water Rescue manikin, the Toddler is a collaboration between Ruth Lee and the medical simulation experts at Lifecast Body Simulation.
Features & Benefits
Blending water rescue training and medical skills acquisition, without switching between manikins.
High-tech ALS drowning toddler torso for ultra-realistic medical skills training.
A rugged outer body aids buoyancy in all waters.
Tether point allows you to remove some of the foam for submerged scenarios without risking losing the manikin in open water.
Specialist technology (patent pending) replicates hydrostatic squeeze meaning that water will not enter the lung system.
Users can introduce water into the lung – allowing you to create bubbling to replicate pulmonary oedema.
Realistic chin lift and jaw thrust to open airways prior to intubation or ventilation.
Manual or mechanical suction capability in nasal or oral cavities. Accepts NPA, OPA, i-gel® and LMA insertion plus Laryngeal intubation.
Cardiopulmonary Resuscitation – chest compression – 1/3 the depth of the chest with built-in recoil.
Anatomically correct weight distribution for the 'feel' of a real casualty.
Product Details
Please refer to the downloadable datasheet for full advice on product specification and product care.
Patent Applied For.
*Please note – if you plan to create submerged scenarios in open water we advise attaching a rope/line very securely to avoid losing it in deep water. Also, please always remember that the manikin is designed to replicate an unresponsive casualty – in open water, part of the challenge is locating that person! It is advisable to attach a GPS tracker or similar to the manikin for performing any search and rescue training. 
Available Sizes
| Name | Code | Height (m) | Weight (kg) | NATO Stock No |
| --- | --- | --- | --- | --- |
| Toddler | RLNAWR-T | 0.95 | 12 | |
Key Medical Paramaters
Perform chin lift and jaw thrust to open airways
Nasopharyngeal Airway (NPA) insertion
Nasal intubation
Oropharyngeal Airway (OPA) insertion
Oro tracheal intubation
Laryngeal Mask airway insertion
i-gel® insertion
Bag valve Mask ventilation
Mechanical Ventilator compatibility
Manual suction or mechanical suction of nasal and oral cavities.
Rise and fall of chest during ventilation
CPR – 1/3 the depth of the chest with built-in recoil.
Realistic pulmonary oedema sounds from the chest
Create 'foam' from the mouth
Who Uses Them?
This manikin is a revolutionary product for those involved in water rescues where continuation of care and medical skills acquisition is just as important as the rescue training.
It is, therefore, suitable for a range of teams who may be faced with the challenge of reviving a drowned child including the coastguard, lifeguards, the military, refugee rescue teams, fire and rescue services, professional maritime companies (including cruise ships) and other teams within the water rescue sector.
Need help deciding which manikin is right for you?
We're here to help
Get a quote for this manikin or any other in this range