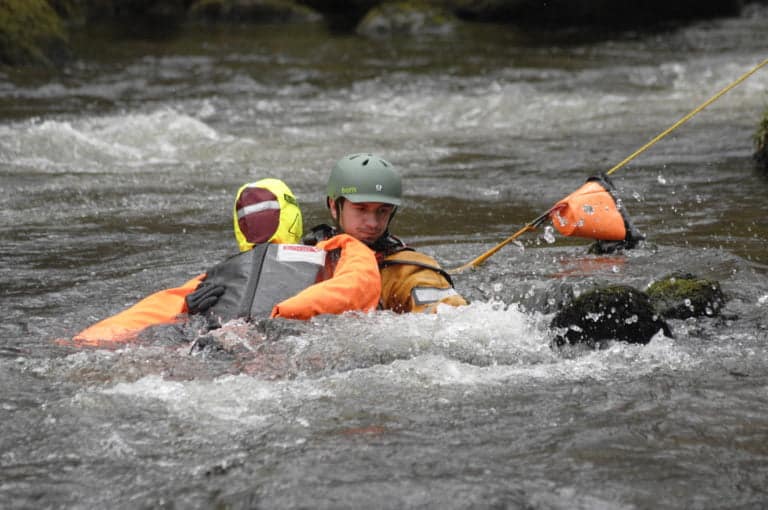 Man Overboard Training Manikins
Otherwise known as 'Dead Fred' - used extensively by NATO forces, British and US Navies, 100% of UK Fire Services and all the sea rescue agencies including The RNLI and Coastguards - NATO stock number available
It is vital that effective MOB drills are conducted frequently with regular crew members on all vessels – these manikins have proven to be a vital tool in achieving that.
The secret to the performance of this manikin is the balance between the weighting and the buoyancy – the tough Nylon mesh carcass allows the water to penetrate rapidly and after a few minutes, the legs will drop below the surface, resting at an angle of about 45 degrees with just the head and shoulders visible above the surface.
Features & Benefits
This model can float horizontally or vertically to simulate a live person or dead body – it takes seconds to move the foam pieces in the overalls to achieve this. *Adult and Youth manikins only
A loop to the back allows the manikin to be lowered into position or hung up to dry.
Bright orange overalls and SOLAS reflective tape on the head make the manikins very conspicuous in open water.
Polypropylene strips allow flexibility in and out of the water but prevent the manikin from bending in half when using stretchers or recovery devices like a Jason's Cradle.
Now has a Polypropylene strip extending from the back up through the neck and into the head to add additional support to the neck
Protective overalls and boots are user-replaceable and greatly extend the life of the manikin
Product Details
Nylon mesh – conforms to BS3408/20
Reinforced P.V.C  – conforms to BS3408/20 and ISO 7854 1984
High density polypropylene webbing (25mm rated to 207Kg, 50mm rated to 440Kg)
SOLUS reflective tape – compliant with US Department of Transportation specification USCG 46 CFR, section 164.018 and International Maritime Organisation (IMO) resolution A.658(16).
Polypropylene plastic (conforms to DIN EN ISO 1873, Teil 1)
Non-absorbent closed cell foam – water absorption : 1 Day  < 0.1 (DIN 53428 1986) 28 Days  < 0.5% VOL
Made in the UK – all manikins conform strictly to our ISO9001:2015 standards.
Available Sizes
| Name | Code | Height (m) | Weight (kg) | NATO Stock No |
| --- | --- | --- | --- | --- |
| Baby | RLNW5MO | 0.7 | 5 | |
| Toddler | RLNW8MO | 0.9 | 8 | |
| Youth | RLNW20MO | 1.3 | 20 | |
| Adult | RLNWMO | 1.8 | 40 | 6910-99-1519652 (Please specify Standard or British Navy specification) |
Key Medical Paramaters
Who Uses Them?
100% of the UK Fire Services
Emergency service professionals around the world – we regularly export to 26 countries with the USA, Australia and Germany being our biggest markets.
MOD – these are the only water rescue manikins specified by the British Ministry of Defence – NATO stock number 6910-99-1519652
British Navy
US Navy
New York Fire Dept
Defence Fire Risk Management Organisation – DFRMO
RNLI (Royal National Lifeboat Institution)
Yachting clubs
Fishing industry
Passenger ferries & shipping
Offshore industry
Ports
Coastguards/Lifeguards
Inland water rescue teams
Utility companies
Airports
Norwegian Army
Exxon Mobile
United States Coastguard
NOAA (National Oceanic and Atmospheric Administration)
Swedish Sea Rescue Society
Aberdeen Harbour Board
Adventure Scotland
Airservices Australia
Australian Department of Defence
Australian Helicopters
Australian Maritime Services
Australian Volunteers Coastguard
Brisbane Water Police
CHC Helicopters
Great Barrier Reef Marine Region
Marine Rescue
NSW Rural Fire Service
Port of Portland Pty Ltd
Queensland Fire and Emergency Services
Rexel
State Emergency Service
Surf Life Saving Club
Survitec
Toll Remote Logistics – Helicopters
Torres Pilots Pty Ltd
Victoria State Emergency Service
Volunteer Marine Rescue
Worksense
Malaysia Fire & Rescue Department (BOMBA)
Malaysia Civil Defence
Singapore Civil Defence
Singapore Changi Airport Academy
Portuguese Navy
Brazillian Navy
Need help deciding which manikin is right for you?
We're here to help
Get a quote for this manikin or any other in this range