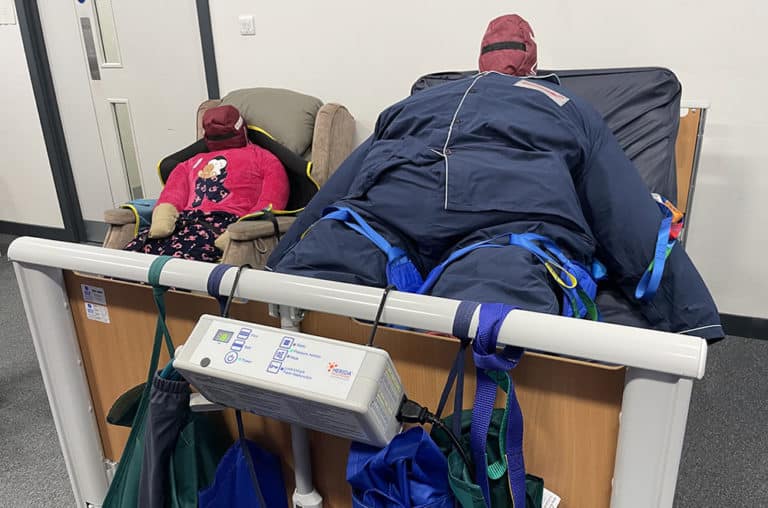 Bariatric (Obese) Training Manikins
Staff in every sector need training to effectively handle heavier people. "Globally the number of overweight and obese individuals had risen to 1.46 billion in 2008, a 23% increase since 1980 (ODI Future Diets Report)."
Obesity is a very real problem in the UK and across the world and judging by government figures and anecdotal evidence, the problem is rapidly getting worse. The need for heavyweight manikins has never been greater.
All sectors as well as Fire & Rescue, Hospitals, Ambulance can experience heavier casualties.
Healthcare There is a growing requirement within the healthcare sector to be prepared for plus-size patients. Often a 'we will deal with it when we have to' approach means that patients face a lack of dignified care and caregivers are at an even greater risk of injury through lack of experience and planning.
Airlines accommodate increasingly heavy passengers – we lent an RL180 to Airbus in Broughton, UK for a multi-agency exercise and Nicole (as she was called!) brought the exercise to a standstill! It took the combined teams 15 minutes to formulate a plan of how to remove her from the training fuselage!
Shipping: Cruise Ships could have many obese/bariatric passengers on board, would your staff know how to deal with passengers of these weights?
Prisons: do your officers have sufficient training to be able to move prisoners weighing more than 130 Kg if an incident arose?
Care Homes: not all situations will require the emergency services, could your staff manage? An obese dummy might help your staff to avoid injury through poor patient handling skills.
Casualties / Victims / Patients / Clients / Staff / Passengers come in all shapes and sizes – can you safely manoeuvre a plus-size person? 
Features & Benefits
Constructed in waterproof Polyester: conforms to BS EN ISO 6330), OEKO-TEX® Standard 100 and ISO 17050-1 which is tough, safe to handle and easy to clean.
Anatomically correct weight distribution gives the 'feel' of an unconscious person, helping to improve pre-hospital clinical care.
Strong enough to be buried under concrete or steel lintels with no damage; placed in or under vehicles; – these manikins are tough enough for all training exercises!
We have worked very hard to achieve a 'fluidity of movement' with the weight rather than just producing a heavy 'lump', so these manikins are very realistic to work with.
In rescue scenarios, they are designed for a team of at least 4-6 people to rescue and are supplied complete with a carrying sheet to assist in carrying and positioning the manikin. The carry sheet has a safe working load of up to 600kg (LOLER certified).
The neck provides the ability to fit an immobilisation/extrication collar if required – to promote proper casualty care.
We have created a 50Kg version of the bariatric manikin, which provides the visual impact of a plus-size patient without excessive weight – perfect for healthcare settings and for manufacturers and suppliers of bariatric equipment to be able to safely demonstrate their products.
Product Details
PRODUCT DETAILS
Constructed in waterproof Polyester: conforms to BS EN ISO 6330), OEKO-TEX® Standard 100 and ISO 17050-1. These manikins can be washed down with soapy water to keep clean
Padding – 25mm flame retardant Polyurethane foam VE38200 (conforms to BS2852:Part 2:1982).
The fluidity of movement is created by distributing the weight in 1/2 Kg packets across the Nylon covered f/r foam.
Made in the UK – all manikins conform strictly to our ISO9001:2015 standards.
Available Sizes
| Name | Code | Height (m) | Weight (kg) | NATO Stock No |
| --- | --- | --- | --- | --- |
| 50Kg Bariatric Adult | RLN50B | 1.8 | 50 | |
| 90Kg Bariatric Adult | RLN90B | 1.8 | 90 | |
| 180Kg Bariatric Adult | RLN180 | 1.8 | 180 | |
| 260Kg Bariatric Adult | RLN260 | 1.8 | 260 | |
Key Medical Paramaters
Who Uses Them?
1st Call Mobility Ltd
Avon FRS
Babcock Training Limited
Bournemouth University School of Health & Social Care
Coventry City Council
Devon and Somerset FRS
East Midlands Ambulance Service NHS TRUST
East Of England Ambulance Service NHS Trust
Extratec
Greater Manchester FRS
Kent FRS
Lincolnshire FRS
Linet Uk Ltd
London Ambulance Service NHS TRUST
Merseyside FRS
North East Ambulance Service AMB HQ
Outreach Rescue
Scottish Ambulance Service
South Central Ambulance Service
South Yorkshire FRS
STATES OF JERSEY FIRE SERVICE
Warwickshire FRS
Welsh Ambulance Service NHS Trust
West Midlands FRS
West Sussex FRS
Wiltshire & Swindon Fire Authority
Yorkshire Ambulance Service
Princess Alexandra Hosp – Loganholme, Australia
Mayo Clinic – USA
Philips Healthcare – USA
Need help deciding which manikin is right for you?
We're here to help
Get a quote for this manikin or any other in this range