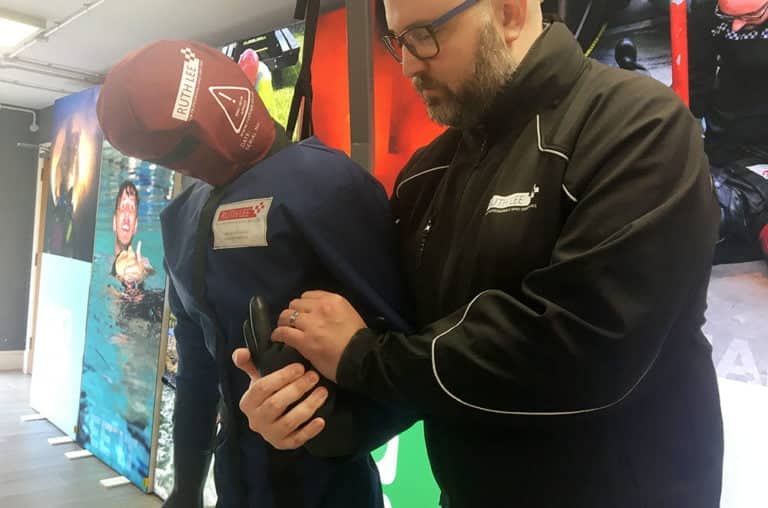 The PMVA (Prevention and Management of Violence and Aggression) Manikin was designed in collaboration with a leading mental health secure hospital, allowing teams to train safely and reduce the escalation of violent behaviour.
The PMVA (Prevention and Management of Violence and Aggression) Manikin was designed in collaboration with a leading secure hospital, specialising in physical intervention training aimed at reducing the escalation of violence in mental health establishments. It has quickly proven to be a popular choice and is equally valuable to those managing potentially violent persons, such as prisons, the Police and even special schools.
Since Covid19 struck, many trainers are looking for ways to minimise person-to-person contact and in testing, it was found that 90% of different hold techniques can now be physically trained whilst social distancing. This has enabled the secure hospital who helped develop the manikin to successfully complete return to work assessments and refresher training much more quickly than previous training methods.
Features & Benefits
This manikin has a different arm/hand design than any of our other manikins. It comes complete with gloved hands, which articulate at the correct pressure points.
A wide range of different physical intervention techniques can be performed and holds can be performed in a seated or lying position.
Tests in training demonstrate that using the manikin greatly minimises person-to-person contact, allowing teams to complete important assessments quickly in a post-covid era.
At 30kg, the manikin has enough weight to provide a realistic challenge and the anatomically correct weight distribution helps to add to this realism.
A strong webbing loop at the back allows easy handling, hauling aloft, storage and suspension for drying.
Based on our standard duty range, the manikin is tough enough to withstand being part buried under concrete or steel lintels, driven over by a 4×4 vehicle, or dropped from a 2nd-floor window without damage.
Soft body joints eliminate the risk of pinch welts and bruising; common injuries when using plastic bodied manikins.
An immobilisation/extrication collar can be fitted around the neck of our adult manikins to promote proper casualty care if required.
Using shoutbox feature (optional extra) you can personalise a recorded message up to 60 seconds which can be periodically repeated.
Comes complete with boots and overalls which are easily replaced if damaged.
Product Details
The manikin weighs 30kg, which was the weight specified by the secure hospital who helped develop it. Other weight variations may be available if required.
* Please note that a small amount of metal is used in the construction of this manikin. If this is an issue, please contact us before purchasing. 
CAUTION – This product contains natural rubber latex which can cause an allergic reaction in some individuals. If a reaction occurs please discontinue use and seek medical attention.
Available Sizes
| Name | Code | Height (m) | Weight (kg) | NATO Stock No |
| --- | --- | --- | --- | --- |
| 30Kg Adult | RLNRM30 | 1.8 | 30 | |
Key Medical Paramaters
Who Uses Them?
This manikin was designed primarily for those who work with potentially violent offenders or patients, allowing teams to learn important techniques which ultimately reduce the escalations of aggression or violence.
Need help deciding which manikin is right for you?
We're here to help
Get a quote for this manikin or any other in this range