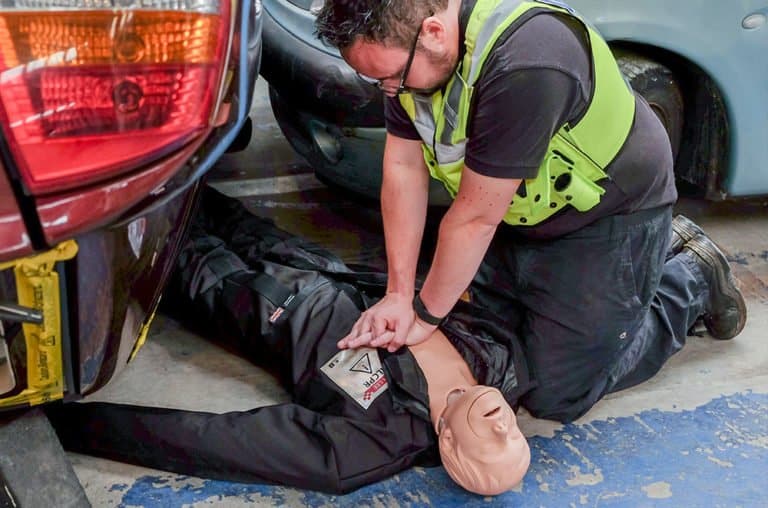 Full Body CPR Training Manikins
Make your CPR more like real life! Step out of the classroom and complete CPR training in 'real-life' situations for better learning outcomes.
CPR training is usually carried out in a well lit, carpeted classroom with plenty of space – how would your staff manage in a confined space or other difficult circumstances such as a road traffic collision (RTC) or if the manikin was trapped by the legs? Would they even be expecting to carry out CPR outside of a classroom? If you introduced this manikin into a routine training exercise what effect would it have – it would certainly make them stop and think and would definitely test their preparedness!
Features & Benefits
Our Full Body CPR manikin comes complete with a Simulaids Brad torso. However, some other torso may fit. Please contact us on 01490 413 282 to check before purchasing if you wish to use a CPR torso you already have
Torsos are not fixed and can easily be removed for cleaning. A padded jacket is supplied to protect the torso and to aid installation and removal from the carcass.
Now constructed in Polyester: conforms to BS EN ISO 6330), OEKO-TEX® Standard 100 – the new material is tough, safe to handle and very easy to clean.
Adult sized at 1.8m for realistic training.
These manikins totally eliminate the risk of the pinching associated with the joints of the plastic full-bodied manikins.
Supplied with replaceable, washable protective overalls.
Supplied in a tough storage/carrying holdall, making storing and handling the manikin far easier – they also protect and keep the manikins clean when not in use.
Product Details
Manikins can be supplied with or without the CPR torso itself, allowing users to use their own if they already have them. If opting for a torso to be included, it will be the Simulaids Brad Torso
Supplied in 2 weights (with torso fitted): 20 & 50Kg.
Supplied complete with carrying/storage holdall and protective overall.
Laerdal Little Anne Torso has been tested to fit this manikin body.
Available Sizes
| Name | Code | Height (m) | Weight (kg) | NATO Stock No |
| --- | --- | --- | --- | --- |
| 20Kg Adult Without CPR Torso | RLNCPR | 1.8 | 13 | |
| 20Kg Adult With CPR Torso | RLNCPRTOR | 1.8 | 20 | |
| 50Kg Adult Without CPR Torso | RLNCPR50 | 1.8 | 43 | |
| 50Kg Adult With CPR Torso | RLNCPRTOR50 | 1.8 | 50 | |
Key Medical Paramaters
Who Uses Them?
US Airforce
US Navy
BHB FIRE & SPECIALIST TRAINING
British Red Cross
Doctor-NHS trust
Essential Safety Products
Firewise
FirstInNow Ltd
Maldives National Defence Force
Northamptonshire County Council
Southern Railway
Spirit Training Ltd
Survival Technology
WGM Engineering Ltd
Wiltshire Ambulance Service
Wolverest Group Limited
Abacare Care Agency
Army Cadet Force – Channel Islands
AWE PLC
British Virgin Is. Red Cross Bukamal
Bukamal
Cambridgeshire Search and Rescue
City airport ltd
Clinique de Mercy Children Specialist Clinic
Crystal Safety Training
Defence CBRN Centre
Dive with Options
Draeger Safety UK Ltd
EDF Energy Hinkley Point C
Ensas India
Eton International
Farstad Shipping Scotland
Global Italian Services S.r.l
Heightsafety Westrand
Hertfordshire County Council
HM Prison Service Fire Section
Hospital of St John & St Elizabeth
Magnox Limited
MedSec 7
NHS
Northern Ireland  Prison Service College
Petrochem Carless
Scatsta Airport
Tameside College
United Nations Mission in South Sudan
UoN Wilderness Medicine Society
South Shields Volunteer life brigade
Rapier Consulting (LFRS Ltd).
William Tracey Group
Regularly exported to rescue professionals in 26 countries worldwide, with the USA, Australia and Germany being our biggest markets.
Need help deciding which manikin is right for you?
We're here to help
Get a quote for this manikin or any other in this range